Exposition AMERICAN SCULPTURE de John A. Peralta :
Du 27 avril 2019 au 15 juin 2019
La Galerie Goutal est heureuse de vous présenter AMERICAN SCULPTURE de John A. Peralta
John A. Peralta est un sculpteur non conventionnel qui associe des objets mécaniques emblématiques et des matériaux de haute technologie pour produire des représentations surprenantes et complexes. Ses oeuvres offrent au regard les entrailles des plus belles mécaniques qu'il a soigneusement démontées. Chaque pièce, est ensuite suspendue par un fil afin de mettre en lumière les contrastes visuels et texturaux, le mouvement, les rouages, les espaces pleins et vides.
Machines à écrire, pistolets Baretta, ou même IPhone sont autant d'objets qui inspirent l'artiste pour une réappropriation poétique.
A la Galerie Goutal, John Peralta expose Fiat Lux, un projecteur de cinéma affranchi des lois de la pesanteur.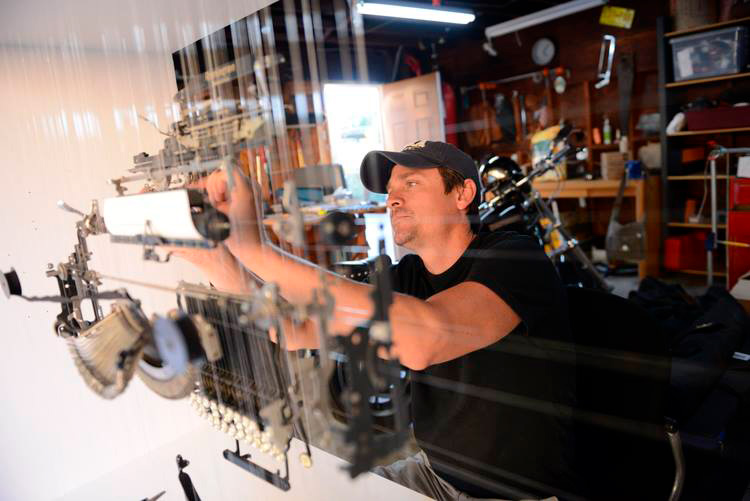 John A. Peralta is a self-taught artist whose unconventional style of sculpture incorporates iconic mechanical objects and high-tech materials to produce astonishingly beautiful and complex representations. His interpretation of what is known in engineering terms as the exploded diagram, is truly original and demonstrates his extraordinary imagination, technical expertise, and inventiveness.
John is a native of New Mexico. His family's roots date back to the second Spanish governor, Don Pedro de Peralta, who founded the city of Santa Fe in 1607. And although he now lives in Austin Texas, his New Mexico family and heritage remain major influences on his life and work.
From his mid‐teens through his mid‐twenties John lived in communes where he developed practical self‐reliance and a love for the natural world. He then spent more than 20 years living abroad and traveling throughout East Asia, India, Africa, the South Pacific, Southeast Asia, and Europe.
For most of his professional career John worked in corporate and educational fields. He served as Executive Director of International Affairs at UCLA, where he was responsible for the university's global advancement. Prior to that, he lived seven years in Hong Kong where he founded Global Philanthropic, an international consulting firm that advises universities, non-profit organizations, and governments on strategic management issues.
Some of his earliest memories are of he and his brother pulling their red wagon around the neighborhood, knocking on doors, collecting broken radios, televisions, tape players – anything they could get their hands on – opening them up to see what made them work. As a teen, he spent a lot of time sketching with pencil and charcoal very detailed drawings. He was especially inspired by the mind-bending work of M.C. Escher. Says John, "I loved the way he broke all the rules of geometry, symmetry and mechanics and created his own."
He received no formal training in the arts, and it wasn't until his thirties that he found his true creative voice. His interests are in visual and textural contrasts, motion, mechanics, space, time, and the use of bold colors. His influences include cubist artists like Metzinger and Picasso.
John is currently represented by Galerie Goutal in France, George Billis Gallery in New York, Wally Workman Gallery in Austin, George Billis Gallery in Los Angeles, Cinq Gallery in Dallas, and Gerald Peters Projects in Santa Fe. He has had major exhibitions in New York, Los Angeles, Chicago, Dallas, Austin and Santa Fe. Commissions for private collectors and corporate clients are also a significant part of his work.
AMERICAN SCULPTURE  du 27 avril au 15 juin 2019