Formento & Formento known for their romantic and sensually staged photography that blur the lines of fiction and reality, clarity and ambiguity. Their style reveals a fascination with mood and texture where a sense of placea figures prominently. From America, Europe, Cuba, Mexico, India to Japan they blend fervent passion for photography and film with a lasting love for one another. BJ Formento American born moved to NYC in 1999 and learned from esteemed masters such as Richard Avedon, Annie Leibovitz, Mary Ellen Mark and Arnold Newman. Richeille Formento was born in London and received her degrees from the prestigious Central St. Martins College of Art before working as an art director in the fashion industry.
In 2005, BJ and Richeille met while working together on a job in South Beach, Miami. They admit to love at first sight, and were married in New York City three months later. Working together as Formento & Formento, they have been presented with Vogue's New Exposure Award for their work with Bottega Veneta. Formento & Formento come out of this hybrid lineage of art and fashion. You might call them third Pictures Generation artists. Their work conjures the sensibility of an art film and extends it though lengthy series. Although their work is usually not explicit fashion, they tend to observe high fashion standards in casting, hair and makeup, which invariably injects a frisson of glamor into the scenario. Their locations and their lighting are first rate, giving a genuine cinematic sensibility to the photographs in the way Crewdson achieves big screen values, but Formento & Formento are a duo that travels light and manages to achieve soundstage quality without Hollywood budgets.
In their first major body of work they created a dramatic portrait of the American West, "Circumstance" embodies the combined American visions of both BJ and Richeille. Capturing a country during uncertain times, their dramatically lit subjects are transformed into heroines and femme fatales caught in intense moments of emotion and reflection, traveling in a mobile home and finding locations and casting on the fly. In the Japan Diaries the arrived as outsiders, bringing with them rich impressions accumulated from Japanese art and cinema, but possessing keen fresh eyes hungry for the exotic aesthetic contrarieties of this ancient yet ultramodern culture.
Their work has convoked a passionate following in a short time with representation and exhibitions that span the globe. Represented by Fahey Klein Gallery Los Angeles to Taylor Graham in NYC to La Photographie Galerie in Belgium, with auction records with Bonhams and permanent collections with International Center for Photography NYC, Currier Museum, Boca Raton Museum and Lewben Museum. More recent is their foray in filmmaking won them accolades at Cannes Film Festival 2016 and raising funds for International Rescue Committee with their short film « The Voyage » that drew thousands of people during Art Basel Miami Beach 2015. In September 2013 the Formentos celebrated the release of their first art tome, Circumstance, published by YK Editions, accompanied by a short documentary on their work shown in Paris and their 2nd book published in 2015 entitled "Cinematic Chronicles" Their increased presence in the international art fair circuit includes Paris Photo, AIPAD, The Armory Show, Photo Shanghai, Art Silicon, Art Miami, Art Wynwood , Art New York and Photo London. They also pay it forward speaking at art schools as well as teaching workshops. 2018 brings their third book showcasing 10 years of work published by Gliteratti Books.
"Formento & Formento have come a long way in a short time, but they have shown that they live for the journey and it will continue, leading wherever it takes them. They are professional tourists, bringing expertise, imagination and an almost alien gift for absorbing and rendering the spirit of a
time and place. William S. Burroughs, who loved to collaborate and who created "the cut up method" with painter Brion Gysin, said that when two minds work together
they create a third mind. Here we see that two eyes can create a third eye, and everyone knows that the third eye can see through time and space, showing
us things otherwise invisible." ~Glenn O'Brien;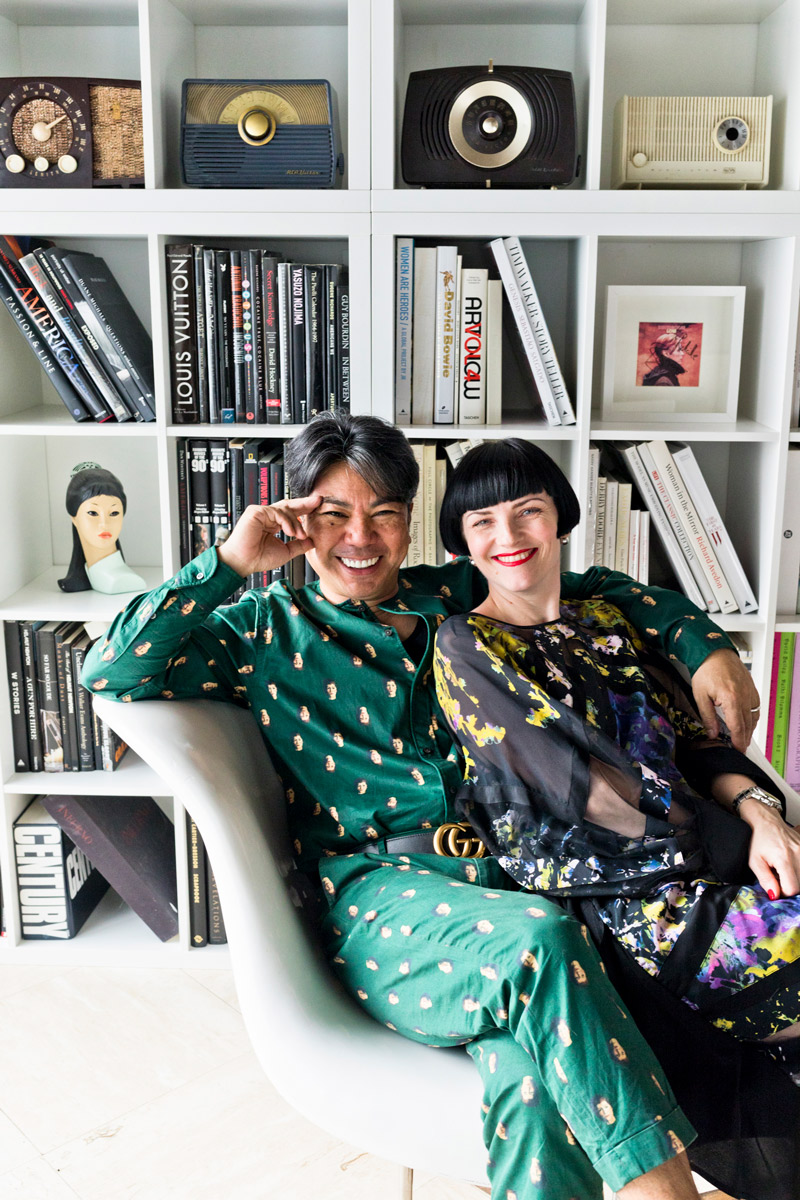 BJ (American, born in 1964)
Richeille (British, born in 1975)
Permanent Collections:
International Center for Photography NY Permanent Collection
Lewben Museum, Poland Permanent Collection
Currier Museum, New Hampshire Permanent Collection
Boca Raton Museum of Fine Art, Florida
Sélection d'expositions:
2018 Fotofever, Galerie Goutal, Paris
2018 Confrontations Photo, Galerie Goutal, Gex (Suisse)
2018 Divines Icônes, Galerie Goutal
2018 PhotoMonaco 2018, Galerie Goutal, Monaco
2018 MIA Photo Fair 2018, Galerie Goutal, Milan, Italie
2017 Art Miami 2017 Vallarino Fine Art
2017 Cherchez La Femme, solo exhibition at Taylor and Graham Gallery, NYC
2017 Zona Maco Art Fair, Mexico City
2017 Loot X Gallery, Ixtapa Mexico
2017 Art Aspen Vallarino Fine Arts
2017 Athens Photo Festival 2017, Cinematic Chronicles
2017 Solo Exhibition Musee Des Arts Decoratif Paris
2017 Art New York, NYC May 2017
2017 Ideat Magazine Art Issue 100 page feature/cover May/June 2017
2017 Scope Art Fair, NYC 2017
2017 Photo LA, She is Cuba 2017
2017 Special Selection for Vogue Italia Photo Festival Carla Sozzani Gallery Milan
2016 Leica Gallery/ Vogue Italia exhibition Milan
2016 Official Selection Aesthetica film Festival Best Creative Concept
2016 Invited to teach at prestigious Palm Springs Photo Festival
2016 Van Gogh Award Amsterdam Film Festival Best Experimental Film
2016 "Best of" Wetransfer Creative Awards
2016 Special Selection Photo Vogue Festival, Base Gallery Milano
2016 Art Basel Miami Beach Markowicz Gallery Miami
2016 Soho House, Miami Feb 1- April 1 Solo Exhibition "She is Cuba"
2016 Parmigiani Gallery Feb 1- April 1 Solo Exhibition "Circumstance"
2015 Women's Club, Miami She is Cuba and Japan Diaries Solo Exhibition
2015 ABMB / Red Digital Cinema short film and photographs"The Voyage"
2015 Bonhams Auction, NYC
2015 In Haus, NYC group exhibition for Midnightrun.org
2015 Photo London, Robert Klein Gallery
2015 Art Wynnwood, Miami Beach, Fl., VVFA Gallery
2014 Art Miami, Miami Beach, Fl. Booth Installation: She is Cuba and Japan Diaries
2014 Snap Orlando, Florida Solo Exhibition
2014 Photo Shanghai, Fahey Klein Gallery
2014 Art Silicon, VVFA Gallery
2014 Fahey Klein Gallery Solo Exhibition, Los Angeles
2014 Robert Klein Gallery, Boston
2014 Robert Klein Gallery, AIPAD, New York
2014 L'Atelier Des Artistes, Paris
2014 Traffic Art Space, New York
2013 Art Basel, Single Artist Booth Presentation, VVFA/Traffic Art Space
2013 Photo Paris, Robert Klein Gallery
2013 Corso Como Gallery, Group Show Vogue Italia, Milan
2013 Traffic Art Space, New York
2013 Wonderground Gallery, New York
2013 Art Miami, Miami Beach, Fl. Booth Installation: Circumstance-American Beauty Down on Bruised Knees
2013 Pompidou Museum, Presentation of a Documentary on Formento + Formento
2012 Underground Gallery, Art Below, Queens Diamond Jubilee, London
2012 Corso Como Gallery, Group Show Vogue Italia 101 Photographs, Milan
2012 Solo Exhibition, Society Club Soho, London
2012 Awarded Vogue's New Exposure with Bottega Veneta and Red Camera
2012 Solo Exhibition, Salon Gallery, NYC
2012 Milk Gallery, US Vogue Group Show, NYC
2012 Togonon Gallery, San Francisco
2011 Photo District News Annual Winner
2011 Life Support Japan
2010 Beers Lambert Gallery London