[Exhibition UTOPIA,  13 October – 9 December, 2017]
For the past ten years,
Philippe Calandre'
s work has revolved around architecture and more recently utopia. From 2012, he uses the technique of photomontage to introduce imagination on real sites. The splendor of the landscapes of Philippe Calandre is due to a subtle balance between the past, the future and the present. The use of black and white or of faded colors gives its compositions an a-temporal value. The photographer thus transports us to unspecified countries in which our dreams and our unconscious can project.
These utopias subtly echo a whole literary, architectural and cinematographic culture.
These include Thomas More, founder of the concept of utopia in the 16th century, the Babylonian city of Fritz Lang in the film Metropolis and the futuristic creations of the architect Antonio Sant'Elia.
The originality of Philippe Calandre also resides in the redundancy of the motif of industrial architecture. In the Isola Nova series (commissioned by the Wilmotte Foundation in 2013), it is skilfully interwoven with the prestigious buildings of an ancient Venice. In Méta Locus, it imposes itself on the gaze, bristling with chimneys and silos, like a labyrinth whose entrance and exit can not be found. These strange structures overhang desert landscapes in all their immutable and mysterious beauty.
Emptied of human presence, the architectural utopias of Philippe Calandre are sublimated by the extreme precision he brings to the montage of his images. Their great realism is due in particular to the control of the shadows cast, the luminosity and the melts to the gray which do not let appear the least fitting.
Carried by the creative freedom inspired by the photographic medium, Philippe Calandre came to invent his own forms, pushing back the initial limits of the « camera obscura »
July 2017, Galerie Goutal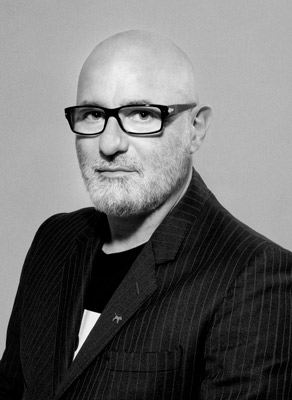 Born in 1964
Works and lives in Paris
Collections:
Fonds national d'Art contemporain
Fondation Wilmotte
Fondation Artemide Milano
La Cornue S.A, diverses entreprises
Collection privée Anne Barrault
Diverses collections privées
 Artistic collaborations:
2014 Damien Hirst Signification (Hope, Immortality and Death in Paris, Now and Then)
2006 Pina Bausch Pier2 expérience Taiwan
Solo shows (selections):
2016 IN PERCEPTIVO, Espace Vallès Grenoble France
2016 KEPLER 452 B, centre d'art du Prieuré Saint loup Moret sur Loing France
2015 ISOLA NOVA, Espace Richaud Versailles
2015 META LOCUS, Galerie Andata Ritorno Genève
2015 ISOLA NOVA, Wilmotte gallery at Lichfield Studios – Londres – Angleterre
2014 ISOLA NOVA, Wilmotte Foundation – Venise – Italie
2014 THERE IS NO CURRENT EXHIBITION, Galerie Andata Ritorno – Genève – Suisse
2012 FICTION FACTORIES, Galerie Esther Woerdehoff – France
2007 ARCHI PARANO, photographies & vidéo – Art Center Kao-Un University – Taïwan
2007 SIDE OF THE ROAD 2, Kio-A-Thau Art Center – Taïwan
2006 TAIWAN'S FACTORIES, Art district, pear2 – Kaoshiung – Taiwan
2005 SIDE OF THE ROAD 1, Art district, pear2 – Kaoshiung – Taiwan
2001 CAFARDS 2000, Galerie Anne Barrault – Paris – France
2000 AD VITAM AETERNAM, photographies & vidéo – Galerie Anne Barrault – Paris – France
Exhibitions (selection):
2017 Espace volume trait – le Mur- Moêt sur Loing France
2009 Foto povera – Opal Gallery – Atlanta – USA Espace
2009 HORIZON VERTICAL (Bunker) – Villa Rothschild – Cannes – France
2008 PLEDGE FOR HUMAN RIGHTS – Womblock Art Center – Taipei – Taiwan
2008 ARCHI-balnéaire – Espace Saint-Nazaire – Sanary-sur-Mer – France
2008 DEFENSE'S show– Arte Povera – Galerie Opale – Atlanta – USA
2007 CRèME SOLAIRE – Espace Saint-Nazaire – Sanary-sur-Mer – France
2006 WORKING PROGRESS, (front of the wall) drum et danse avec la compagnie de Pina Bausch – Art district, pear2 – Kaoshiung – Taiwan
2006 GRANDES VACANCES (Bunkers) – Galerie Anne Barrault – Paris – France
2006 SUGAR FIELD FACTORY – Kio-A-Thau Residency Ciaotou – Taïwan
2004 CONTROL TOWER, «Sur les traces de Lucien Hervé" – Musée André Malraux, Le Havre – France
2003 LACENAIRE – «Le goût du Noir» – Pertuis – France
2002 AD VITAM AETERNAM, photographies & vidéo – Galerie Schroeder Romero – New York
2002 GHOST STATIONS , «Traces d'humanité», photographies – Galerie Anne Barrault – Paris
2001 SILOS – FIAC – Galerie Anne Barrault – Paris – France
2001 CAFARDS 2000- Saison Française de la Photographie – Noorderlicht, Groningen – Pays-Bas
2000 LOMO, vues de Paris – Mois de la photo – Galerie Anne Barrault – Paris – France
2000 GHOST STATIONS – Artissima – Galerie Anne Barrault – Turin – Italie
2000 LACENAIRE– Paysages urbains «Made in Paris» – Buenos Aires – Argentine
1999 A VENDRE – – Galerie Anne Barrault – Paris – France
1999 GHOST STATIONS, photographies – Galerie Taché/lévy – Bruxelles – Belgique
1998 FUNNY FACES – Paris Photo – Paris – France
1998 CRIMES STORIES – Galerie Zabriskie – Paris – France
1997 AD VITAM AETERNAM, photographies & vidéo – Institut Français de Thessalonique – Grèce
1997 SMILE – Galerie Contre- jour – Paris – France